analogRead(dance)
analogRead(dance) is a performative installation created by Lins Derry, Jackson Howell, and Suleiman Alhadidi. As the title references, the installation acts as a computational function that accepts as well as returns the variable type "dance". Simply explained, dancer one improvises a stepping pattern on the wood stage that affects the visual output which dancer two choreographically responds to. Mediating this relationship are piezo sensors and a video projector. By design, analogRead(dance) is a part-analog/part-digital performance machine.
Electronics Design
Designed a printed circuit board with two piezo sensors for measuring floor vibrations. Programmed serial communication between Arduino and Processing IDE's. Adhered piezo sensors to triangular wood stage where performer one danced.
(Eagle, Arduino, SRP milling machine)
Visual Design
Programmed signal analysis and visualization in Processing for the video projection. Passed piezo data as parameters for the locations and widths of the projected white lines. Used mylar as a secondary "projector" to create the final visual output on the far wall where performer two danced.
(Arduino, Processing, Video Projection)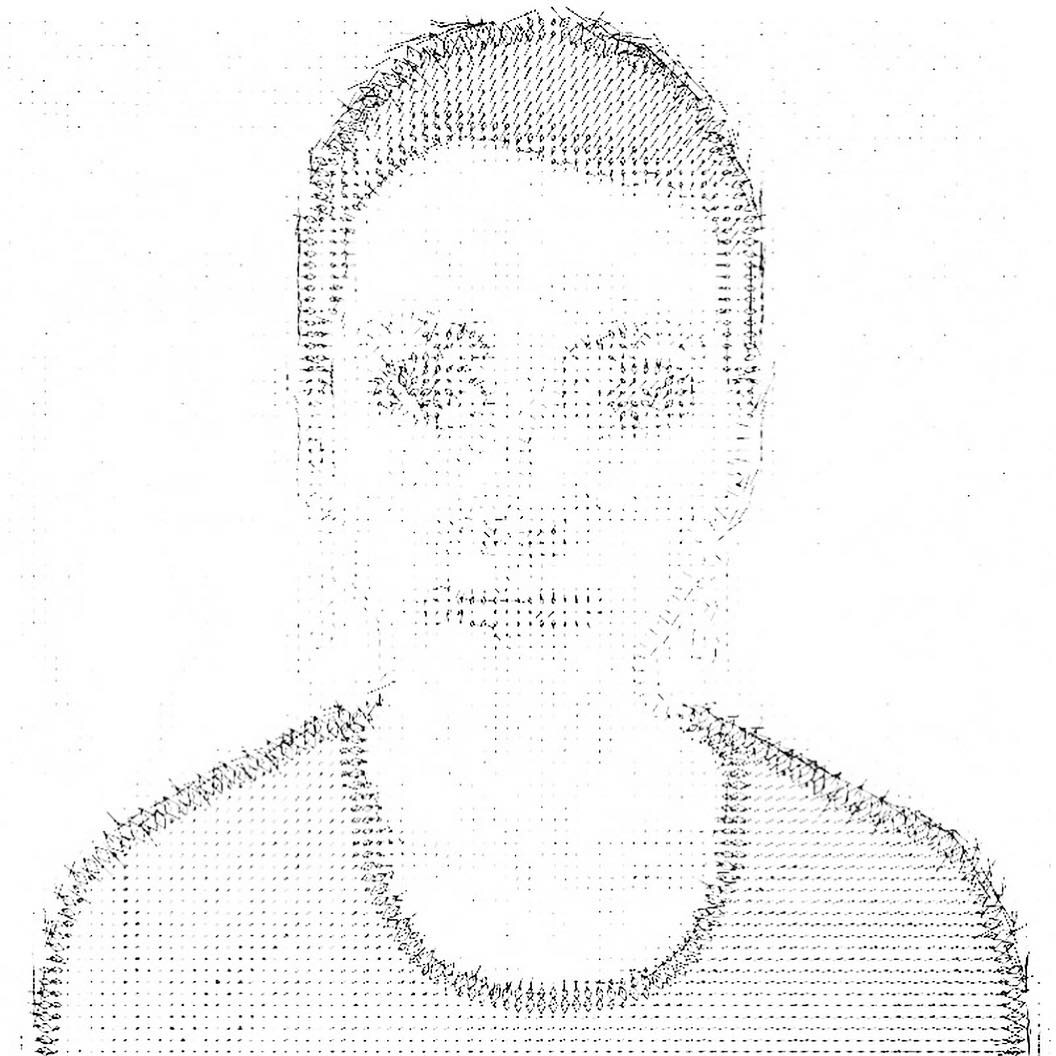 Coursework
In Computational Design I: Space, we worked in the Rhino/Grasshopper environment using the C# programming language. By applying analytical and computational geometry principals, we increased our understanding/use of space in design.
Assignment A
Beginning with digital images, but only using a list of pixel brightnesses and a list of dark-to-light gradient vectors, we created these abstractions that resemble line drawings.
(Yutong Jiang, collaborator)
Assignment B
Beginning with a surface in the form of a mask, we deformed the face by mathematically affecting the z-axis then applied adaptive subdivision to create a mask of many surfaces.

(Iris Xia, collaborator)
Assignment C
Beginning with a "school of (mesh) fish" that were assumed to be colored glass, we created a large "shadow" in the shape of a fish with a pattern of interlocking fish "projected" onto it via the presumed colored glass.
(Yutong Jiang, collaborator)